Arnold Worsley's Home Page
Featuring only


visitors since 10/13/96

http://www.digits.com/
---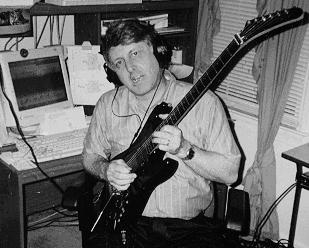 A computer studies teacher at Edgecombe Community College in Tarboro, NC, USA,
I also write music and software in my spare time.
A graduate of the Berklee College ofMusic in Boston, I have over 30 years
of musical performing and arranging/composition experience in all styles.
The guitar is my principle instrument.
---
All selections ©1996-1998 by Arnold Worsley, ASCAP
*All rights reserved*
---
I compose with Finale,


then mix and save the MIDIs with CakeWalk.


The mouse is now my axe!

---

The Original MIDI Compositions

For best results a wave table sound card is recommended.

Hear "Dare to Fail #1," My contributed version of the first DTF project.
Hear my second Dare to Fail composition.
Hear my third Dare to Fail composition.
Hear my fourth Dare to Fail composition.

Hear my own original jazz compositions:

"Crime Drama," Anyone wanna buy a theme for their TV show?
"Madison's Theme," she was gone before we knew it. About Madison.
"Butterball", a perky little number,as is "Butternut"!
"Seven", a folksy ballad that might be the soundtrack for a dream.
"Talk Show", a two-horn chart (You can almost hear the chairs being thrown.)
"Blocks", a Dorian modal vamp with some spice.
"Serenade", a soulful bass ostinato under cool harmonies.
"Life", features several improvised solos.
"Fun", inspired by some of Miles Davis' later works.
"Waking", a ballad that brightens up towards the end.
"Swing It", an original 8+5 big band number.
"Energy", a fusion piece.
"Easy" , smooth jazz for your driving pleasure.

Hear my own blues composition, "Spiritually Blue"
Hear my own classical composition, "String Trio #1"
Two bits of space music, "Fifths" and
"Space Pad" which was selected as background music for "Kinetic World", VRML art by Jack Andrews
For concert band, "March"
There's even some reggae! "Reggae"

---
(On the Web since March, 1996)
e-mail to arnold@aworsley.com
(Did you sign the guestbook?)
©1996-2001 by Arnold Worsley, ASCAP